Banquet Package
While our banquets often have so many different items and experiences to offer, Keystone Elk Country Alliance features a few special items that will be available at each banquet. During the evening of the banquet, you can look forward to finding these items.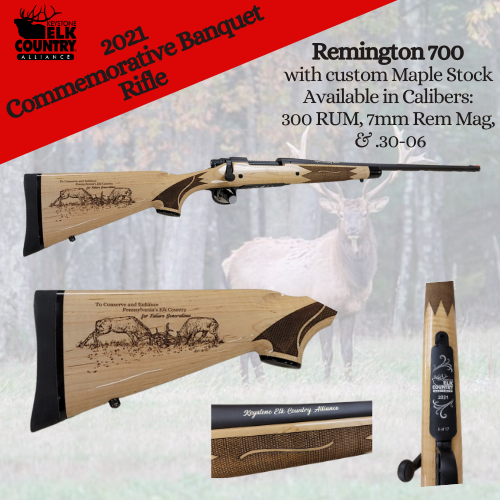 2021 KECA Commemorative Banquet Rifle:
The 2021 Banquet Rifle is a Remington 700 featuring a custom gloss maple stock that is available in calibers .300 Remington Ultra Mag, 7mm Rem Mag, and .30-06.  The stock of the rifle showcases an artistic rendition of our sparring bulls image by KECA's Conservation Education Coordinator, Ben Porkolab along with our organization's mission "to conserve and enhance Pennsylvania's Elk Country for future generations."  Rifles also will include commemorative engraving on floorplate and barrel as well as being numbered by event.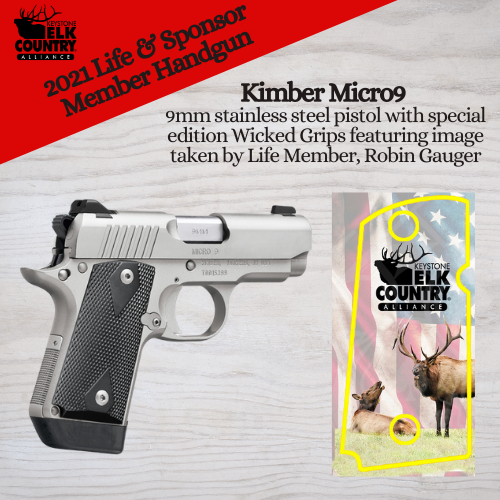 2021 Life & Sponsor Member Handgun: The 2021 Life & Sponsor Member Handgun is a Kimber Micro9 9mm stainless steel pistol with a custom Wicked Grip featuring an Elk Country image taken by Life Member, Robin Gauger.   The Life & Sponsor Member Handgun can be won through the Life & Sponsor Member Raffle at each of our Conservation Banquets or Special Chapter Events. 
2021 Progressive Rifle:
The 2021 Progressive Rifle is a Thompson Center Compass II .30-06 Rifle with Vortex Sonora 4-12 x44 BDC Scope.  The Rifle has been customized with a limited edition Cerokote in a distressed green pattern with KECA logo.
The Progressive Raffle will occur at each of our 16 banquets or special Chapter events, from the raffle, a single winner is drawn and that lucky person will win the 2021 Progressive Rifle. Then that winner will have a one in 16 chance of winning the grand prize. At the final banquet of the season, all 16 winners will go into a drawing and one VERY lucky person will win a Companion Elk Hunt (1 Bull & 1 Cow) to FishTail Ranch in Chama, New Mexico.
FishTail Ranch is a world class outfitter, located on the banks of Rio Brazos, with luxury lodge accommodations including home cooked meals, spacious bedrooms with private baths, and a large deck to gather and share stories from the field. For more information on FishTail Ranch, please visit http://www.fishtailranch.com