WELCOME TO THE HOME OF THE KEYSTONE ELK COUNTRY ALLIANCE
The Keystone Elk Country Alliance (KECA) is a Pennsylvania based 501(c) non-profit wildlife conservation organization. KECA operates and manages the Elk Country Visitor Center and the surrounding properties in Benezette, Pennsylvania to benefit the future of Elk Country, and the enjoyment of hundreds of thousands of visitors each year. Guests will enjoy conservation education programs, our 4D story theater, our new ECCO Building (Elk Country Campus Outdoors Building) which is available for programs and events, the interactive displays and diorama in the heart of the Visitor Center as well as the hundreds of wild elk that call the property surrounding the Visitor Center home. We welcome you to come and experience Elk Country for yourself. KECA is membership based, but volunteer driven, with volunteers helping us complete our mission on a daily basis.
KECA's resources have been focused on improving hundreds of acres on the property surrounding the Elk Country Visitor Center along with many projects on both public and private land. Our commitment is to Elk Country first. One way that commitment is fulfilled is through our amazing conservation education programs. Take part in our programs here at the Elk Country Visitor Center, or through our web-based distance learning program. For more information on any of our programs, contact us today.
2024 RAFFLE CALENDARS AVAILABLE NOW
Introducing our third annual Raffle Calendar! The 2024 Raffle Calendar features 13 beautiful photos of Elk Country as well as a year long raffle with tons of prize giveaways. Prize drawings will begin January 1st, 2024. 
Calendars can be purchased at the Elk Country Gift Shop at the Elk Country Visitor Center or by clicking the button below.
Photo Contest Winner (Cover Photo): Bruce Walkovich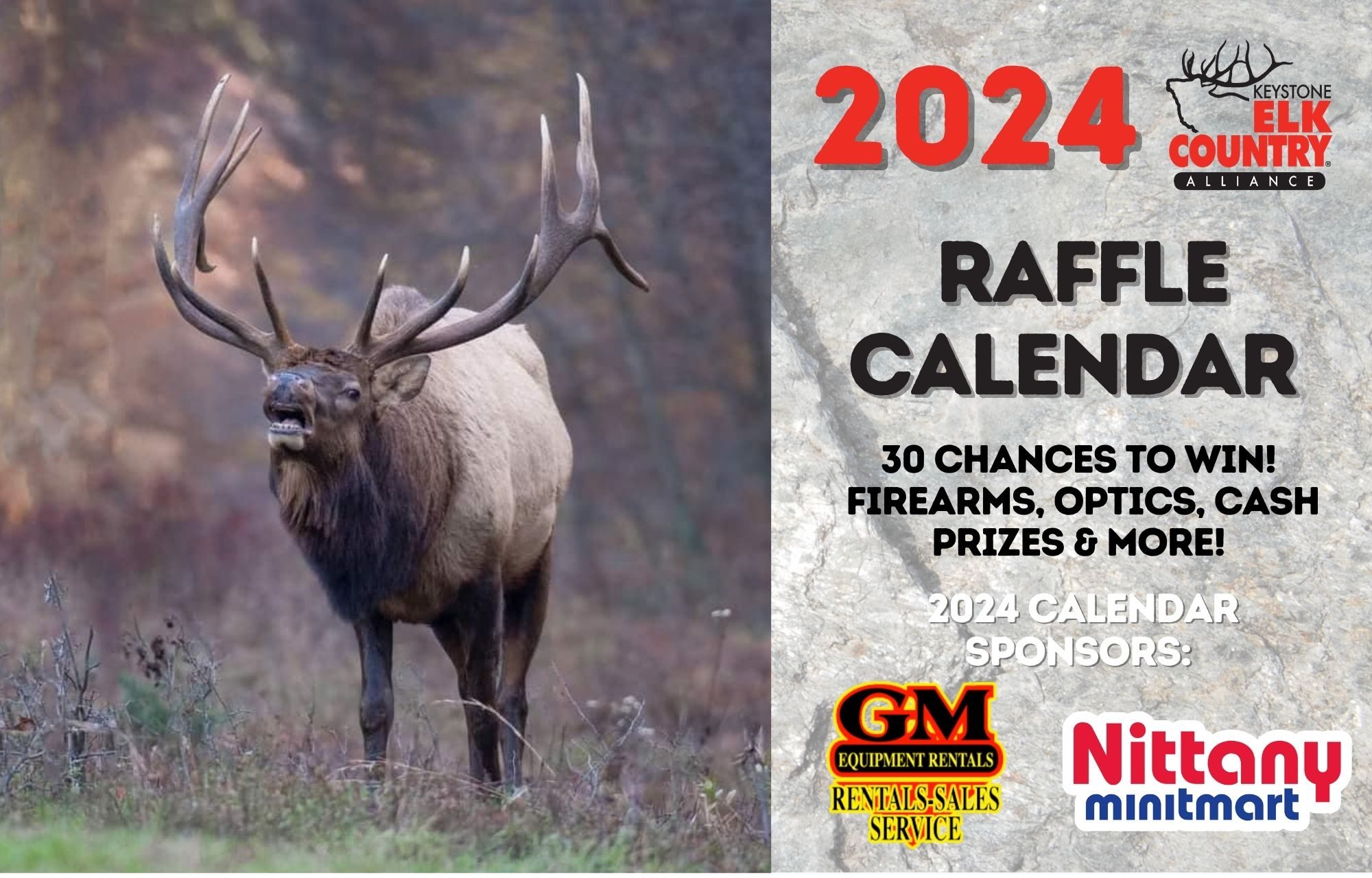 1 Ticket for $25.00 for a chance to win a 2024 Pa Bull Elk License
Elk Tag Raffle – Single Ticket KECA has worked diligently to build the best Pennsylvania Bull Elk hunt package possible. With that in mind, our package consists of one 2024 Pa Bull Elk License along with an all-inclusive accessory package of: Guided 6-day hunt with lodging and meals by Trophy Rack Lodge, taxidermy ready skin/cape and regular cut/wrap meat processing by Country Butcher, LLC along with a shoulder mount. Hunt will be filmed by TomBob Outdoors for airing on Friends in Wild Places. Elk hunt dates: Sept. 1 – Nov. 4, 2023, in any legal elk hunt zone. Winner must purchase PA general and elk hunting license in order to participate in hunt. Hunt winner will be selected during a live drawing on July 28th at 3:00 P.M. at the Elk Country Visitor Center in Benezette, PA during the Elk Expo. Winner need not be present to win. License must be purchased and used in 2024 and according to all applicable state hunting laws. Proceeds are used by KECA for conservation education programs and elk habitat improvements. SGOC #2597-22
ELK COUNTRY VISITOR CENTER
Thousands of visitors come to the Elk Country Visitor Center yearly to see the elk herd, and learn about elk and other wildlife, conservation practices, habitat enhancement and more. Not only will you get a chance to appreciate Elk in their natural habitat, but you will depart inspired by the dedication of people who act as daily stewards of the natural habitat and inhabitants of the Pennsylvania Wilds.
While at the Center, be sure to visit our gift shop, which features a variety of local artisan products, unique gifts, and custom clothing. All of our products are proudly made in the USA.